On June 1, 2023, representatives from the American Institute in Taiwan (AIT) and the Taipei Economic and Cultural Representative Office in the United States (TECRO) signed the first agreement under the U.S.-Taiwan Initiative on 21st Century Trade. The agreement was signed by Taiwan Representative to the U.S. Hsiao Bi-khim (蕭美琴) and American Institute in Taiwan (AIT) Managing Director Ingrid Larson at the AIT headquarters in Arington, Virginia. The ceremony was witnessed by Minister Without Portfolio John Deng and Deputy U.S. Trade Representative Sarah Bianchi.
This move comes exactly one year after the launch of the U.S.-Taiwan Initiative on 21st Century Trade on June 1, 2022.
In a statement by the Office of the United States Trade Representative (USTR), spokesperson Sam Michel said,
This agreement is intended to strengthen and deepen the economic and trade relationship between the United States and Taiwan… We thank our Taiwan partners for helping us reach this important milestone and look forward to upcoming negotiations on additional trade areas set forth in the initiative's negotiating mandate.

USTR, June 1, 2023
Taiwan Cabinet Spokesperson Alan Lin told reporters,
The deal that will be signed tonight is not only very historic, but also signals a new beginning. Relevant tasks are yet to be completed… Taiwan will continue to move toward a comprehensive FTA [free-trade agreement] with the United States to ensure Taiwan's economic security.

June 2, 2023. As reported by the Taipei Times.
Last year, Taiwan's Ministry of Foreign Affairs welcomed the launch of the initiative:
"Given the tremendous interest in and momentum for consultations on the part of both countries, MOFA is confident that this new bilateral initiative will soon achieve substantive outcomes."

June 1, 2022. MOFA Press Room.
The US-Taiwan Bilateral Trade Agreement Coalition welcomes the signing of this first agreement under the Initiative, and is optimistic for the future of U.S.-Taiwan trade relations. We hope to see the signing of a more ambitious BTA – one that addresses barriers to trade – in the future.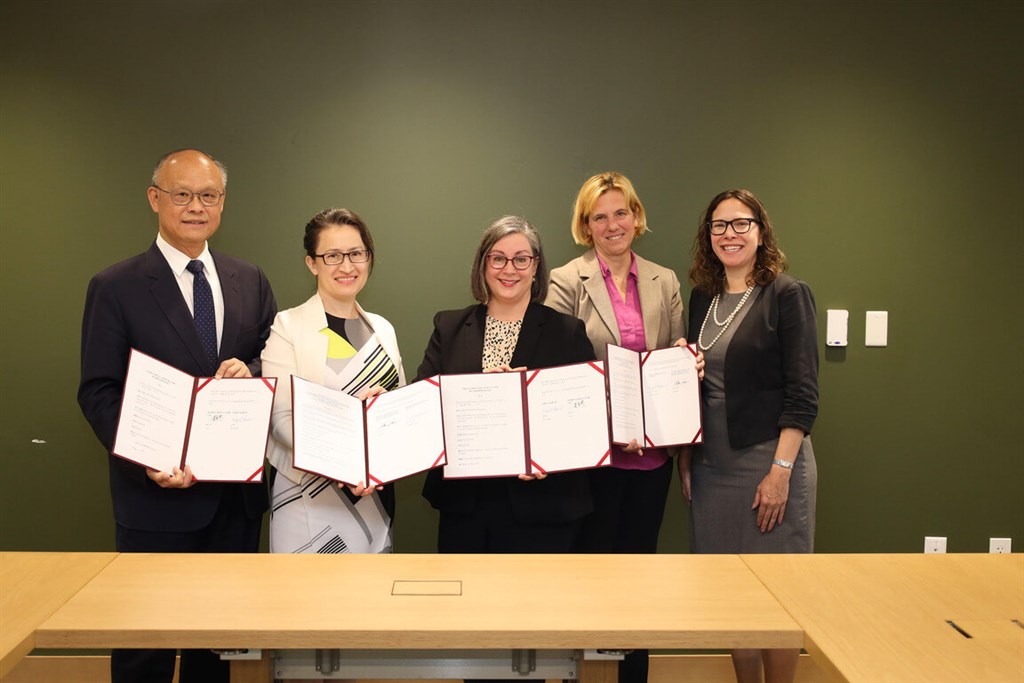 ---
U.S.-Taiwan Initiative on 21st Century Trade
The full text of the signed first agreement under the U.S.-Taiwan Initiative on 21st Century Trade can now be accessed on USTR's website.
The agreement addresses:
Customs Administration and Trade Facilitation
The negotiated text on customs administration and trade facilitation will streamline border procedures and reduce red tape, making it easier, faster, and cheaper for American businesses to bring their products to Taiwan and Taiwanese customers. Customs forms will be able to be submitted electronically and will allow border agencies to accept electronic payment of duties, taxes, and fees. Reducing wait times for idling vessels and trucks will also lower greenhouse gas emissions and reduce spoilage, especially of perishable goods.

Good Regulatory Practices
The negotiated text on good regulatory practices creates improved transparency tools and mechanisms that will help small and medium-sized enterprises better understand regulatory procedures in both the U.S. and Taiwan markets. This includes public consultations on draft regulatory measures, which can contribute to better and more informed regulations.

The text also establishes a Good Regulatory Practices Committee to monitor implementation of the obligations in this chapter, improve information sharing, and facilitate enhanced regulatory cooperation.

Services Domestic Regulation
The negotiated text ensures service suppliers are treated fairly when they apply for permission to operate, and that there is a smooth flow of information between the applicant for a license and the regulator. Regulators are required to be independent of the industry they oversee, and must inform applicants of the requirements to obtain a license, provide applicants a fair opportunity to demonstrate that they meet the requirements, and make a decision on whether to issue a license in a reasonable period of time.

The negotiated text also prohibits licensing rules that discriminate on the basis of gender.

Anticorruption
The negotiated text on anticorruption commits the sides to establish comprehensive anticorruption measures that will prevent and combat bribery and other forms of corruption. Building on the anticorruption framework established in the United States-Mexico-Canada Agreement, this chapter addresses money laundering, denial of entry for foreign public officials, the recovery of proceeds of corruption, and enhanced protections for corruption whistleblowers.

The negotiated text also mandates procedures for possible removal of public officials who are charged or convicted of corruption.

Small- and Medium-Sized Enterprises (SMEs)
The negotiated text on SMEs will encourage SME trade and investment opportunities between the United States and Taiwan, including through training programs, trade education, trade finance, trade missions, and improving SME access to capital and credit. The sides would promote online, publicly available resources for SMEs to learn more about how to conduct business in both markets.

The negotiated text encourages that the SME Dialogues include SME owned by diverse, underserved, and underrepresented groups.